---
Mechatronics & Automation (MA)
Mechatronic technologies and automation are needed in many industries. As a result, the demand for specialists is high. With the MSE in Mechatronics and Automation, you will be well prepared for a career in industry.
Outline of profession
In an industrial context, the areas of mechatronics and automation involve the design of autonomous systems using sensors, data processing and actuators. With this MSE, you will be able to carry out research or work in a variety of industries. These include the aerospace and automotive industries, microtechnology, manufacturing, the food industry, and automation and control engineering.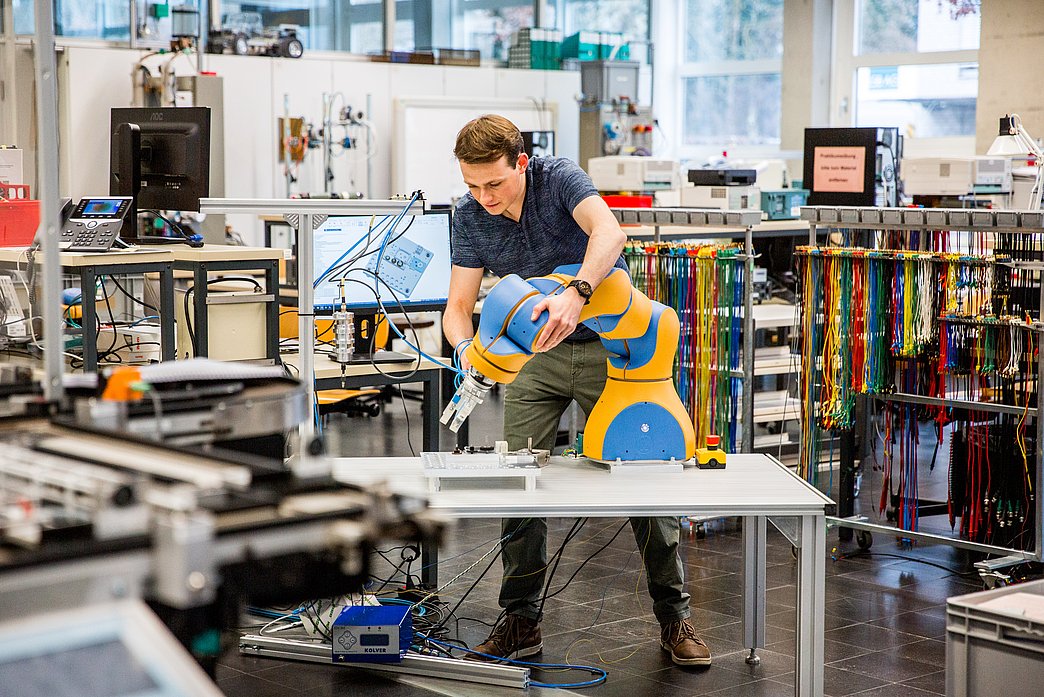 Profile contents
The MSE profile in Mechatronics and Automation covers the following subject areas:
Industrial systems
Mechatronic devices
Robotics
Dynamic systems and control
Professional Skills
With an MSE in Mechatronics and Automation, you will possess expertise in the tools and methods needed to automate processes. You will be able to model, analyse, design and implement mechatronics and automated systems. After completing your studies, you will have in-depth knowledge in the fields of mechatronics, robotics, and measurement and control technologies. You will also have knowledge in areas such as signal processing, communication, data processing and data security.
Entry skills and enrolment process
Specific skills are required to enrol in this profile. Students holding one of the following bachelor's degrees generally fulfil these entry requirements.
BSc in Electrical Engineering
BSc in Mechanical Engineering
BSc in System Engineering
BSc in Microtechnology
BSc in Industrial Systems
BSc in Mechatronics Engineering
Assessment of entry skills is part of the enrolment process of the relevant school. Students who do not hold one of the above-mentioned bachelor's degrees will be individually assessed for their suitability by the relevant University of Applied Sciences.
Recommended theory modules
The theory modules comprise 30 out of 90 ECTS. The modules are taught by professors from all over Switzerland at various locations. You will take these modules together with other MSE students. You can find the recommended theory modules for the MSE in Mechatronics and Automation (MA) here.
Additional skills relative to Bachelor of Science
In the MSE profile in Mechatronics and Automation, you will deepen your knowledge of the tools and methods used in process automation. This understanding makes it easier for you to use advanced tools and technologies that are not available to bachelor's students. In addition, you will be trained in the use of a higher level of abstraction and you will implement cross-system concepts by working on real applied research projects.
Discover more
Universities of Applied Sciences (UAS) offering the Mechatronics and Automation (MA) profile are shown below. Find out more about the courses of study at the individual UASs.