---
Raumentwicklung und Landschaftsarchitektur (ReLa)
Planning and designing cities, settlements, transport, landscapes, open spaces and gardens.
You will develop spaces in a holistic and interdisciplinary manner by taking into account structural, design-related, ecological, economic and social considerations. You will develop concepts and solution approaches for sustainable spatial development.
Outline of profession
Students who take the MSE in the specialisation of "Raumentwicklung und Landschaftsarchitektur" consider the development, renewal and design of settlement areas, infrastructures, open spaces and landscapes at all scales. You will be guided by the requirements of sustainable development, while taking into account economic, ecological and social needs and creating a contemporary, sophisticated design. In particular, you will deal with the interplay between the development of settlements and the planning of open spaces, between built structures and open spaces, and between private property and the use of public space. In the future, you will be able to manage complex tasks and lead interdisciplinary teams in an effective manner.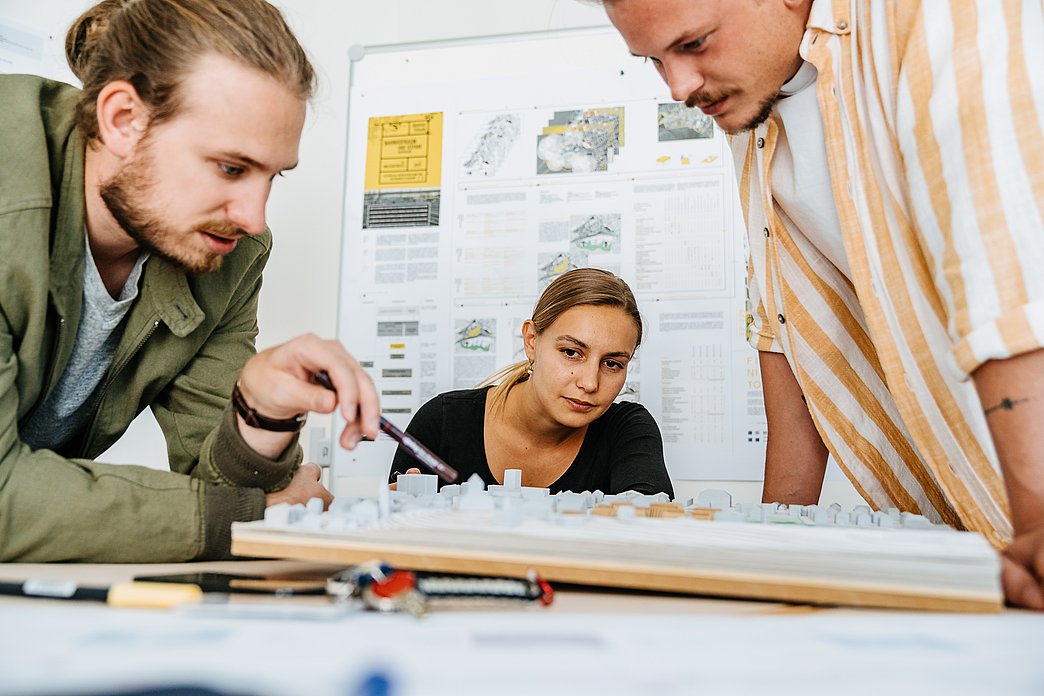 Profile contents
The MSE profile in "Raumentwicklung und Landschaftsarchitektur" covers the following subject areas:
• Spatial development / spatial planning
• Urban planning / urban development / settlement development
• Transport planning, sustainable mobility concepts
• Landscape development, sustainable tourism
• Planning and design of urban open spaces and gardens
Professional Skills
When you graduate, you will have obtained a profile-specific set of skills. These are based on the professions of planning specialists (spatial, landscape, transport and urban planning) and of landscape architects.
With the skills acquired in the profile of "Raumentwicklung und Landschaftsarchitektur", you will possess conceptual skills in innovative planning and design in addition to the conventional skill sets of planning disciplines. You will give particular consideration to changes in spatial development, landscape architecture and related disciplines. This especially involves dealing with increasingly the complex economic, societal and ecological requirements demanded of our living environment and with solutions that meet these requirements. As a master's graduate, you will be able to initiate interdisciplinary, networked planning, development and design processes subject to time and cost pressures. You will guide these processes in a management capacity or will carry them out yourself. You will deploy the available resources efficiently.
Entry skills and enrolment process
Specific skills are required to enrol in this profile. Students holding one of the following bachelor's degrees generally fulfil these entry requirements.
BSc in Urban, Transport and Spatial Planning
BSc in Landscape Architecture
Assessment of entry skills is part of the enrolment process of the relevant school. Students who do not hold one of the above-mentioned bachelor's degrees will be individually assessed for their suitability by the relevant University of Applied Sciences.
Recommended theory modules
The theory modules comprise 30 out of 90 ECTS. The modules are taught by professors from all over Switzerland at various locations. You will take these modules together with other MSE students. You can find the recommended theory modules for the MSE in Raumentwicklung und Landschaftsarchitektur (ReLa) here.
Additional skills relative to Bachelor of Science
With an MSE, you will obtain deeper theoretical and conceptual knowledge and skills as compared to a BSc degree. You be able to consider a problem situation on an abstract level in a way that will enable you to identify and implement efficient, sustainable and innovative solutions to the underlying problem.
Discover more
Universities of Applied Sciences (UAS) offering the "Raumentwicklung und Landschaftsarchitektur" profile are shown below. Find out more about the courses of study at the UAS.
Study language
Mainly German, some modules in English
Main focus
You develop concepts and solutions for sustainable spatial development by planning and designing cities, settlements, transport, landscape, open spaces and gardens in an interdisciplinary way.
Spatial development / spatial planning
Urban planning / town planning / settlement development
Traffic planning, sustainable mobility concepts
Landscape development, sustainable tourism
Planning and design of urban open spaces and gardens